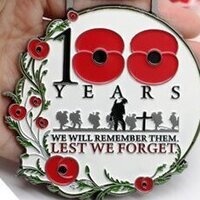 Bells of Peace with the Friends of Pine Grove Furnace
Sunday, 11/11 at 11 AM marks the 100th anniversary of the end of World War I and the Friends of Pine Grove Furnace would like to invite you to a special commemoration.
BELLS OF PEACE this Sunday, November 11 at 11 AM: a simple bell-ringing ceremony at the Pine Grove Furnace chapel (the red brick church, diagonally across Pine Grove Road from the State Park Office).
Please join us at the chapel by 10:50 AM -- or listen from wherever you are in the State Park -- for a ceremonial bell ringing starting at 11 AM to remember the 100th anniversary of the armistice that ended World War I, the supposed "War to End Wars." That hour is chosen because hostilities famously ended on the 11th hour of the 11th day of the 11th month of 1918. We will ring the chapel bell 21 times, in parallel with the concept of the 21-gun salute.
Originally called Armistice Day https://en.wikipedia.org/wiki/Armistice_Day, Nov. 11 in the U.S. later became a national holiday to honor all those who served in all eras, Veterans Day. https://en.wikipedia.org/wiki/Veterans_Day.
For more, see https://www.worldwar1centennial.org/index.php/546-events/bell-tolling/bells-of-peace.html --
What is the National Bell Tolling? "Bells of Peace: A National World War I Remembrance" is a national tolling of bells to honor those who served in the Great War. The United States participated from April 6, 1917 to November 11, 1918... In the war, 116,516 Americans died and over 200,000 were wounded.
Why should we toll the bells? Tolling of bells is the traditional way to mark someone's passing. On special national occasions, bells are tolled in honor of the fallen. November 11 is the 100th anniversary of the signing of the Armistice that ended hostilities in World War I...
Sunday, November 11, 2018 at 11:00am
Pine Grove Furnace State Park
1100 Pine Grove Road, Gardners, PA 17324
Target Audience

Region
Group

Subscribe