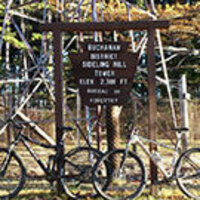 Camping with Friends (of Buchanan)
Calling all hikers, off-road cyclists, and equestrians. The Friends of Buchanan is your multi-recreational group any time but during the weekend of June 16 and 17, it's especially true.
The Friends invite you to a group camp-out. Fun is guaranteed; RSVP/registration is needed by June 4.
Details:
Come join us, for a camping weekend. Enjoy the beautiful State Forest and the trails. Take a hike, bike ride or trail ride with a guide or on your own.
We will enjoy a group campfire and a covered dish style meal, on Saturday evening. Bring your covered dish, instrument, stories and songs to be enjoyed by everyone.
Activities will begin Saturday morning around 10 AM. You are welcome to come Friday evening, just let us know your plans so we can have the gate open.
Please contact Dorene Beckley, muleshasta@embarqmail.com, or call (814)977-6205.
Check our Facebook Page, Friends of Buchanan State Forest, for updates.
Sunday, June 17, 2018 at 10:00am
Buchanan State Forest
25185 Great Cove Road, McConnellsburg, PA 17233
Event Type

Target Audience

Region

Tags
Group

Contact Email

Contact Telephone

814.977.6205

Subscribe